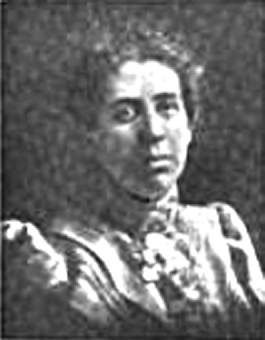 Charlotte Hoak Project
Charlotte Milliken Hoak:
Born:Lottie May Hoak, October 24, 1874 in Comptche Calif.
Died: Sept. 2, 1967
Buried in Evergreen Cemetery Sept 2, 1967
---
Father:
Born: Newman Elvin Hoak , Dec. 8, 1833 in Waldo Borough, Franklin County, Maine
Died: Aug.28, 1915.
Buried in Evergreen Cemetery, Mendocino, California
---
Mother:
Born: Elizabeth Hilton Hatch "Lizzy" of Winsdor, Maine, May 27, 1840 ("of the Magna Carta Hiltons")
Married 10(9)/24/1870
Died: April 23, 1883
Buried in Evergreen Cemetery April 23, 1883
---
2nd wife: Mary E.Sukeforth
Married Newman on Wed. Aug. 15, 1883 in Santa Rosa [North Coast Review kibesillah 8/18,1883); Prior to her marriage to Newman, she was postmistress in the Comptche Post Office.
Died: April 9, 1913 in Talmidge, Buried in Cooper Mills, Maine
---
Siblings:
Born: Alice Hoak, June 14, 1877
Died:
Born: Carrie Emma, "Caroline", May 21, 1879
She attended Mendocino schools and then went to Santa Rosa Business College. Married Melvyn McIntyre in San Rafael then moved to San Francisco. After the fire she moved to Chico. In 1964 they moved to San Luis Obispo
Died:September 1973
Buried in Evergreen Cemetery
---
Description of Charlotte's Early Years:
-Charlotte's father is said to have once been a ship captain. He supports the family with his investments in ??
-Both of her parents loved plants and imported many specimines. A stand of Redwoods were planted on the ranch on her birth.
-Father had an interest in growing fruits and vegetables and in 1891 he won several "Awards" in a district fair for his cabbage, apples, beets and quinces.
-Charlotte loved hiking and exploring around her property and beyond. She recognized old indian trails, camps and burial sites.
---
Education:
Charlotte went to primary school in Comptche. (Class Photo of Comptche School circa 1890)
- At the age of 17 (Wed. Aug. 27, 1890) Lottie moved to San Jose to attend the San Jose Normal School, a school for the purpose of training primary school teachers.
-Charlotte graduated from the Normal School on April 15, 1896.
-Graduated from U.C. at Berkeley 1900 with a Bachelor of Philosophy from the School of Social Sciences. ,
---
Career as an Educator:
"Miss Lottie Hoak, teacher of the Hayslett school (in Comptche?)5/25/1895
-She gave a Botanical Seminar on "The Tropic Zone" as a student in UC.
-In 1901 Charlotte was nominated as Vice Principal of Mendocino High School. She was defeated by Supt. Barbee.
-Charlotte is listed, in April of 1902, as being a teacher for the Mendocino School District. (close up)
-Broadway Store School Principal **1907 -June 1909(at least) ,
-Gave a talk to the B'nai B'rith Jewish Women on, "The Needs of Our Working Girls".
-lecturer for U.C. Extension program and various garden club events.
-Gave a class in South Pasadena for Juniors.
-Charlotte teaches teachers in Bakersfield.
-Charlotte M. Hoak is listed as an alumni of the University of California, as a teacher. "University of -California Chronicle, Volume 9; 1907 (also in Volume 10 on page 112 as Alumni and on page 280 as "address wanted")
-The Guide to Nature Volume 1, issue 6; page 191, "Interesting Forms of Desert Plant Life"
---
Career as a Writer:
-She began as editor of a new college paper called "The Association Record", a newsletter for the Young Woman's Christian Association of the University of California.
-First editor of "Golden Gardens" magazine in 1932. , (official magazine of Federated Garden Clubs of California)
-Independent Star News, Pasadena: Columnist; "Our Wonderful Southland" was a weekly column about plants, gardening and nature. It ran, at least, between 1957 and 1959.
-Wrote an article, "The Present Needs and the Outlook for Nature Study in California" in the Nature Study Review, Volume 4, May, 1908, a publication of the American Nature-Study Society.
-California Cultivator and Livestock and Dairy Journal: Volume 47, Jan. 1, 1916; Column "The Lawn and Flower Garden" "Written for the California Cultivator by Charlotte M. Hoak, page 10, July 8, 1916
-She is included in"Pioneering American Gardening" by Elvenia Slosson with a chapter called "A Child's Garden of Yesterday" is credited to Charlotte Hoak.
---
California Garden Clubs, Inc.:
-Charlotte seemed never to miss an opportunity to advocate for the support of Youth oriented garden clubs and activities. After a luncheon of the Azusa Garden Club she urged members to organize a Junior garden club and she offered prizes to young gardeners who could identify California wild-flowers.
-National Council of Garden Clubs hosts Miss Hoak's talk, "Distribution of California Wild Flowers to Other Parts of the World". [Arcadia Tribune; April 19, 1935]
-Charlotte talks of bulbs at the California Garden Clubs Federation conclave in Fresno. [GC-The Fresno Bee ; Nov. 1, 1935]
**CA Garden Club Conservation Chair in 1941
-Outstanding horticulturist, Charlotte Hoak, was one of the speakers at the "Garden Club Federation" study club meeting on, the staging, arranging and judging of flower shows in Klamath Falls. [Arizona Independent Republic; April 23, 1941] ,
-Charlotte gives report to National Council of State Garden Clubs in the final session of it's sixth annual regional convention in Arizona. [Arizona Independent Republic; April 25, 1941]
-Charlotte spoke at a County Superintendent of Schools, Social Studies and Science Institute meeting of teachers in Bakersfield. [The Bakersfield Californian; Oct. 8, 1943]
-Charlotte Hoak is one of the authorities to speak at an all day gathering of District 11, Garden Clubs of California, Inc., about such matters as highway beautification, conservation, litterbugs and garden therapy, in San Bernardino. CGCI has over 15,000 members. [Nov. 27, 1956]
-Charlotte Hoak, well known horticulturist, writer and State Native Flora chairman will be especially honored in Altadena at the Arboretum District, California Garden Clubs, Inc.'s 10:30 AM meeting. [Independent Star News; Oct. 26, 1958]
-Charlotte Hoak gives talk on wild flowers at the San Bernardino Garden Club meeting at St. Paul's Methodist Church. [Sept. 27, 1959.]
-Charlotte Hoak will speak to the Altadena Woman's Club on "The Spirit of Spring in Your Garden. [The Pasadena Independent; Mar. 9, 1961]
-The Arboretum District, California Garden Clubs, Inc. is anticipation that Charlotte Hoak, well known horticulturist and author will be joining them at their luncheon to celebrate her 85[th] birthday. [Independent Star News Oct. 22, 1961]
-At the Mendo-Lake District annual spring conference of CGCI, introduced Dr. Hans Jenny, professor emeritus of soil and nutrition at U.C. Berkeley, spoke about the his work and study of the Pygmy Forest on the Mendocino Coast. CGCI recently purchased a portion of Pygmy Forest land adjacent to Van Damme State Park as a memorial to Charlotte M. Hoak. The University holds another adjacent part of that Pygmy Forest as a Reserve, which the State has named "Hans Jenny Pygmy Forest Area". [Ukiah Daily Journal; April 29, 1969]
-The Mendo-Lake District of CGCI will be hosting the dedication of the Charlotte M. Hoak Pygmy Forest on Comptche-Ukiah Road. The dedication is open to the public. [Ukiah Daily Journal; Sept 15, 1969]
-Carl Naumann of the North Hollywood Garden Club will give a talk on Begonias at their April 18[th] meeting. He studied under the late Charlotte Hoak, a horticultural specialist. [Van Nuys News; April 6, 1973]
---
Career as an horticulturist:
-Identified plants for a botanical survey at Birch Park in Santa Ana.
-Charlotte M. Hoak's name appears regularly in plant databases at the collector of plant samples. , ,
-A begonia developed by Mary Gillingwators is named, "Charlotte Hoak Begonia".,,
- "The Dean of Horticulturists"
---
Advocate and Organizer:
-Redlands Horticultural Society hears Charlotte Hoak speak about landscaping and the new state highway in the southeastern section of the city. [San Bernardino County Sun; June 7, 1942]
-Stressing her belief that we should all be conservation minded, Charlotte Hoak spoke to a District 7-A Federated Garden Clubs of California meeting, following a luncheon on Wednesday, Sept. 11, at the House of Garner (Ukiah). She urged the audience to "fight bitterly" any \proposed widening of Highway 101, because it would ruin the beauty of the road as it goes through the Redwoods. [Ukiah Daily Journal; Sept. 15, 1950]
-Initiated a memorial from the Woman's Civic League for Mrs Robert Burdette, the league's founder.
-Charlotte Hoak urged the establishment of "wild flower preserves" along Pacific Coast highways and byways as a means of recreating scenic areas of the region. She is the Chairman of Roadside Development for California Garden Clubs, Inc. About 175 delegates from Oregon, California, Arizona and Washington were in attendance. [Tucson Daily Citizen; Feb. 16, 1960]
---
Honors & Memorials:
-The Charlotte M. Hoak Pygmy Forest is dedicated on September 29, 1969. (Dedication Brochure)
-The first "Horticulturist of the Year" award. [Independent Star News; Oct. 9, 1960]
-"Miss Horticulture" [The Independent Star News; Oct. 27, 1958]
-Charlotte M. Hoak is mentioned on the "About Elvenia J Slosson" page on the "Ej Slosson Endowment for Ornamental Horticulture" web-page, part of the University of California Division of Agriculture and Natural Resources internet website and database. Mrs. Slosson is said to have had a close friendship with Charlotte.
-Charlotte received he Eva Kenworthy Grey Award from the American Begonia Society for contributing original material toward helping the rank and file members further their study of begonias.
---
---
Created byJoshua on ... November 20, 2015 as part of the Charlotte Hoak Project. Related pages of this developing project are:Charlotte Hoak's Time Line of Events, Newman Elvin Hoak, Comptche school children in 1890