This is the story of how "Find the Magic; Re-Discovering Our Pygmy Forests" came into being. "Find the Magic" was a series of pygmy forest events and activities meant to inform the community of the elusive beauty, and ecological complexity of the pygmy forest. The Charlotte M. Hoak Pygmy Forest is on Comptche Ukiah Road, just outside of the little town of Mendocino.
---
I first came upon the Charlotte Hoak monument almost 50 years ago as a teenager. My family had just moved nearby from Los Angeles. As a city kid, I had real country-boy challenges, such as learning to cut and split firewood and understanding the proper etiquette for using a semi-occupied two-seater outhouse. At the time, the pygmy forest wasn't one of my challanges and didn't strike me a being a particularly noteworthy place. I put Charlotte Hoak and her Pygmy Forest somewhere in the back of my mind and left them there until a couple of years ago when I retired and returned to my childhood home in the woods. Once again, I took up my old habit of taking daily walks in the pygmy forest.
It wasn't long before I found my way back to Charlotte Hoak. Not much had changed there... the trees remained stunted and the trails were as crooked as ever. Charlotte's monument was exactly where I had left it, although it looked much smaller now than what I remembered from before. The biggest change was that all of the old "TRAIL" signs had worn out completely and were now blank, brown rectangles mounted on wooden sign posts.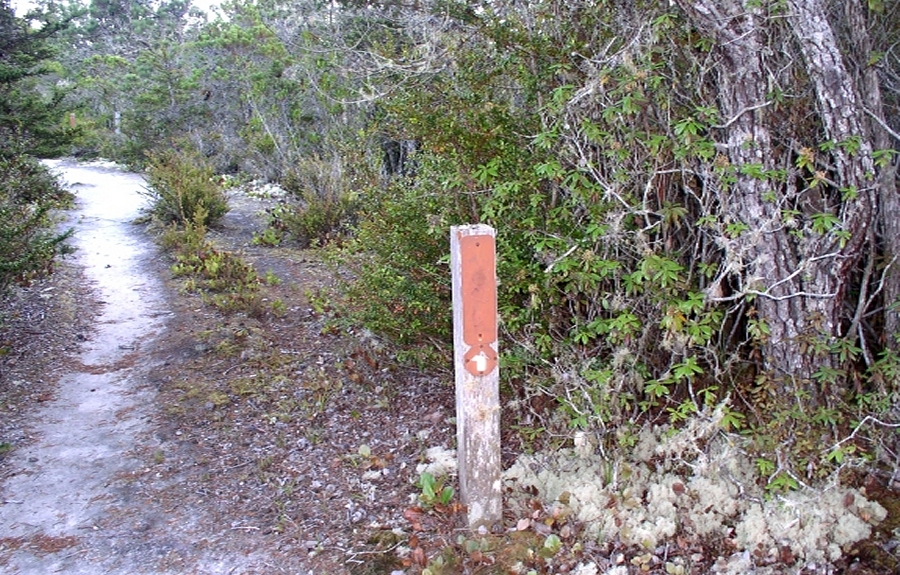 This and the other 5 or 6 "TRAIL" signs at Charlotte Hoak Pygmy Forest were new in 1969 when the grove was dedicated
As I read the plaque again, I wondered why anyone had bothered to erect it here in the middle of nowhere. I had never met another living soul walking on the trails or seen a car parked in the turnout by the trail-head. It was largely unknown to the community and had been forgotten by the State of California. At the same time, I couldn't help thinking that... "This place used to matter a great deal to someone." I was determined to find that story.
That night I posted a message on the Mendocino Community Network email announcement list asking if anyone in the area knew of the Charlotte M. Hoak Pygmy Forest. Two old timers responded that they had been there years ago but didn't know anything about it. To my surprise, about a dozen other people wrote back to ask me for whatever information I was able to discover.
I searched on the internet and checked Wikipedia for Charlotte Hoak to see if she was famous but found nothing of relevance there. I sent messages to California State Parks and other organizations. Following is the message I sent to California Garden Clubs, Inc. and their response.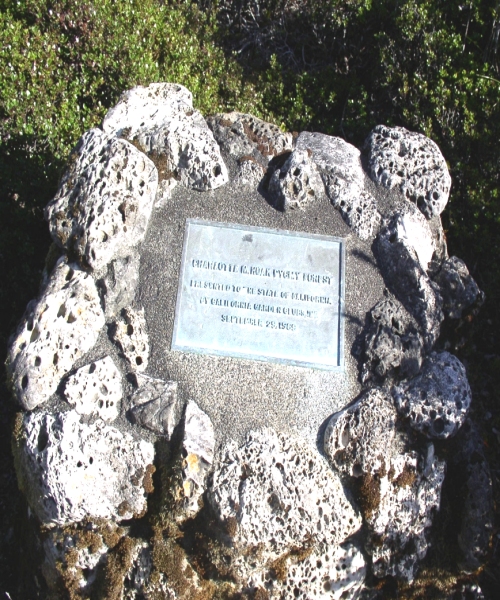 Charlotte M. Hoak Memorial
"Dear California Garden Club,

"Approx. 2.6+- miles East of the coast on the South side of Comptche-Ukiah Rd. in Mendocino is a gravel turnout next to telephone pole #51. It is marked with a dirt path and a brush covered "Trail" sign that is all but invisible from the road. The path leads through the bushes... Huckleberry, Bolander pine, Cypress, Rhododendron, and probably others, to a bronze plaque mounted on a stone memorial. The plaque reads,



Charlotte M. Hoak Pygmy Forest
Presented to the State of California
By California Garden Clubs, Inc.
September 29, 1969



  There are a couple of references to this place on your website and I would like to know more about how and why it was purchased and donated to the state of California. Do you have more information about this magical place? "Thank You in advance for your consideration..."



I got this response:


"Hi Joshua:
Thank you for your interest in this unique corner of California. Charlotte served for many years as the horticulture chairman for California Garden Clubs.  She grew up in Comptche and in 1950 suggested that a portion of the forest should be preserved as a state park.  A fund raising drive started in 1951 and it took until 1969 to accumulate the funds needed to purchase the land which was then turned over to the California Department of Parks and Recreation. --- Jane McKee: CGCI Communications Director

I posted these messages on the announcement list for all of the people who wanted to know more. The information was forwarded by a past neighbor, Jary Stavley, to Fort Bragg Garden Club (FBGC) member Ruth Sparks, who wrote to thank me for the information and to let me know that she was going to check out her FBGC records, then visit the Mendocino Historical Society and the Kelley House Museum to see what more she could find out. Ruth and I began sharing information as it trickled in and I kept everyone on the announcement list informed along the way.
In the middle of November I invited Ruth to meet me at Charlotte Hoak Pygmy Forest because we had never met in person and Ruth had never been there. We met on the road and walked into the woods, across the old stage road and through the pygmy forest to the monument. The plaque was tarnished and difficult to read. We looked at it in silence for a moment, then one of us said, "We should have some kind of a re-dedication to this place". I knew, the moment the words were out that the Charlotte M. Hoak Pygmy Forest was going to be my major focus for the foreseeable future.
Ruth inducted me into Fort Bragg Garden Club (FBGC) where we became the pygmy forest committee along with Peggy Martin, Kay Rex and Kathy Holmes. We called for a meeting to explore the possibility of holding a pygmy forest event in 2016. That first meeting took place in late December. It was well attended with folks from the community and representatives from Mendocino Study Club, Dept. of Fish & Wildlife, Kelley House Museum, Dorothy King Young chapter California Native Plant Society and others. Everyone was on board and very enthusiastic about the idea. At the end of the meeting Loren Rex, our Mendocino Area State Park Superintendent, voiced a concern that I, and probably others were beginning to feel. He said, "We have to be careful not to love the place to death."
A large celebration at the pristine Charlotte Hoak Pygmy forest could become a problem if the site became a popular destination. Almost half of the original Pygmy Forest has been destroyed in the last 50 years by human activity and much of what remains is littered with trash and broken appliances or rutted and eroded by off road vehicles.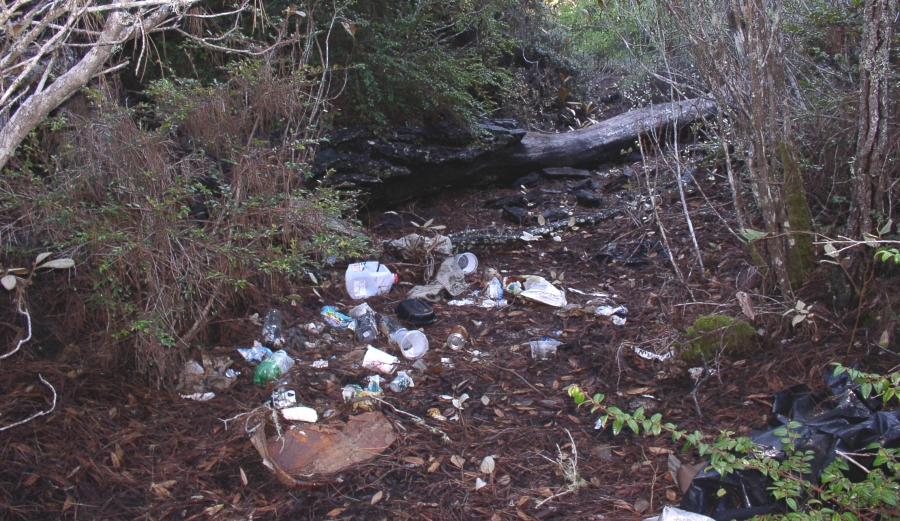 Pygmy Forest Trash in Jackson Demonstration State Forest (JDSF) near Hwy. 20.
We had to find a way to keep our re-dedication modest without diminishing any of the excitement our project had generated for the pygmy forest. After some consideration we decided that the best way to do this was to extend our efforts and promote some of the other Pygmy Forest areas, especially the better protected ones, such as the Van Damme State Park Pygmy Forest Boardwalk and the Ecological Staircase trail to the JDSF Pygmy Forest Reserve near Jug Handle State Natural Reserve.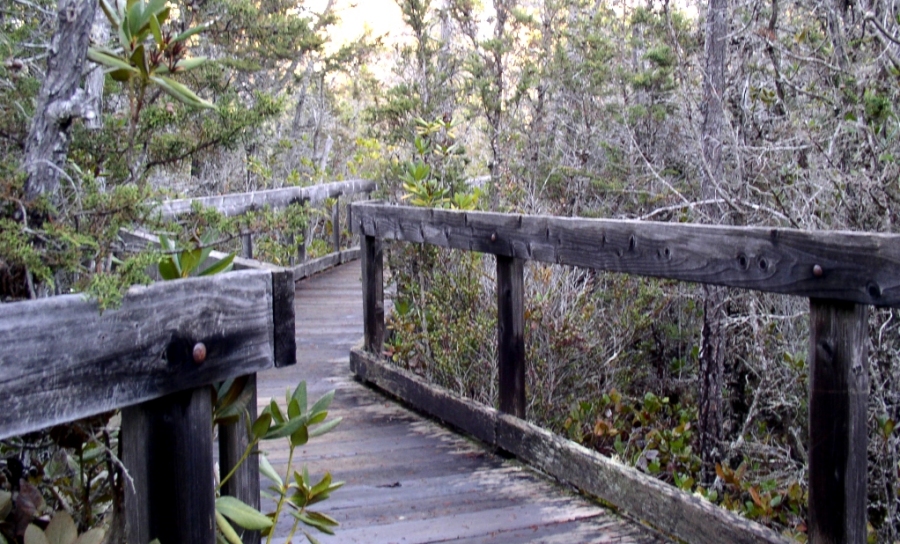 Pygmy Forest Boardwalk at Van Damme State Park
We began to encourage some of the other groups to host activities in different pygmy forest locations for an entire weekend in September of 2016. Our hope was that this would reduce the number of people interested in attending the Charlotte M. Hoak re-dedication in favor of going to some of the other events. We named the program "Find the Magic; Rediscovering Our Pygmy Forests". Our strategy worked and the re-dedication was limited to about 25 people while "Find the Magic" evolved into something much larger than a single weekend.
I'll just mention just a few of of the events that have already taken place. In April, a suggestion from FBGC members led to a grant from the California State Parks Foundation which allowed Mendocino Study Club to bus all of Mendocino and Fort Bragg's 4th graders to the pygmy forest with naturalist Pam Huntley. She took five groups of 60 children, each group on a different day, for a four hour hike and field trip to the Pygmy Forest Reserve in Jackson Demonstration State Forest. That excursion led to "Once upon a time in the Pygmy Forest..." a story contest started by the Study Club, for children, and later, adults which was judged by the Writers of the Mendocino Coast.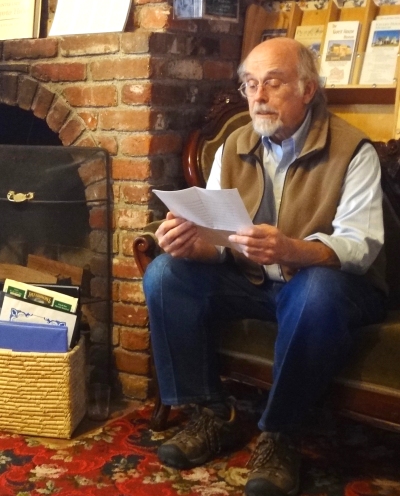 Jary Stavely Reading his 1st place Pygmy Forest Story at Ford House
The Garden Club with The Mendocino Photographer's Group arranged for a pygmy forest photo contest, an pygmy forest exhibit at the Ford House and two local banks and a Charlotte Hoak display at the Kelley House. The Garden Club created a flag to commemorate the National Park Service's "Pygmy Forest National Natural Landmark" at Jug Handle, and a beautiful brochure with help from biologist Teresa Sholars, writer and designer Doug Fortier, cartographer Rixanne Wheren, artist Erica Fielder and soil scientist/artist Jay Noller, who painted "Blacklock" (Blacklock is a soil profile similar to what we have under the pygmy forest). This painting was used as the background for both the flag and the brochure. The brochure highlights five different pygmy forest locations between Little River and Fort Bragg. I'm especially proud to say that there is now a Charlotte Millikin Hoak Wikipedia page, so if you want to know a little more about her, you can Google it.
The most important thing that I'd like to leave you with is actually the very beginning of this story, which was planted in the mind of a child, long before any of us were born.
Back in 1878 a homesteader by the name of Newman Hoak, one of the Comptche Founding Fathers, took his daughter, Lottie, to the pygmy forest. Charlotte wrote about this in an article in 1957 where she said...
"At the Age of four my father set me down beside one of those tiny pine trees of the Pygmy Forest. It barely came to my knees and I listened to him as he told me that the little tree was more than 150 years old."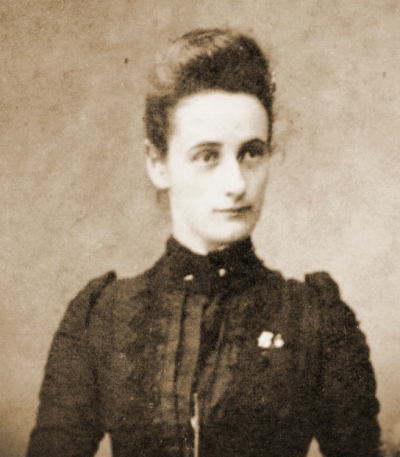 Charlotte Millicent Hoak
Charlotte Hoak was inspired to return to the pygmy forest regularly throughout her life and the enchantment she felt as a child 138 years ago is alive and bearing fruit here in Mendocino today. Sadly, Charlotte died at age 92, just two years before the 1969 dedication of her pygmy forest. What this story illustrates is that; "We could never guess what wonderful things may happen down the road, when we take a child into the pygmy forest."
"Find The Magic" participants include:
Fort Bragg Garden Club
Fort Bragg Rotary Club
Mendocino Study Club
Photographers of Mendocino






Sept. 10, 2016 Re-Dedication Of Charlotte M. Hoak Pygmy Forest

---
Copyright &copy Joshua Lowell 2016