A Bolander pine tree was dug up for Walt Disney in 1958 and shipped to Anaheim to be used in the creation of a miniature replica of Germany's Black Forest for his "Snow White" garden at Disneyland. The tree was carefully removed near Van Damme State Park under the supervision of Anton Trigerio, the park ranger who was in charge of an extensive tree moving operation for the World's Fair.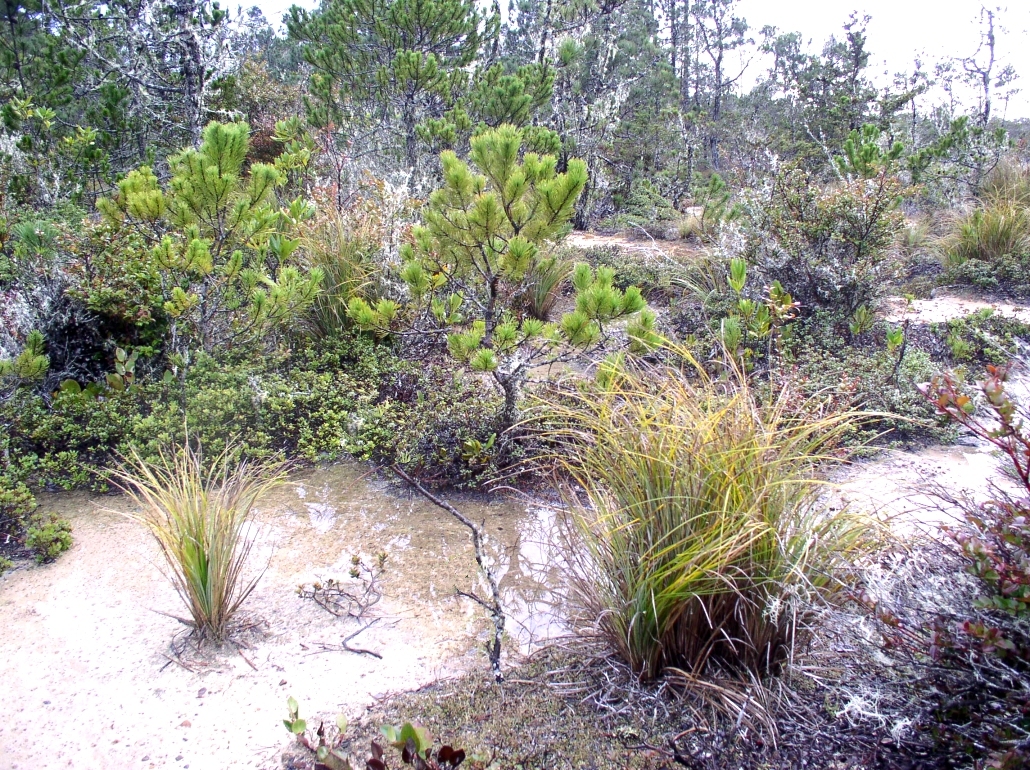 A Pair of Bolander pine trees (Pinus contorta var. bolanderi)... Walt Disney Knew about the pygmy forest!
---
Ten years later a BBC documentary was filmed in the pygmy forest off of Gibney Lane with Hans Jenny acting as the film crew's guide and expert. Tourists from Great Britain came to Mendocino to see it for themselves. Hans and other prominent scientists continued to study and write about the pygmy forest and many of their graduate student were awarded degrees based on their own research in the pygmy forest. Academic documents written about the pygmy forest have been circulated widely.
Hans Jenny worked long and hard to get the federal government to recognize the pygmy forest area near Jughandle Creek as a rare and valuable resource. He wanted it to be given a National Landmark designation by the Department of the Interior. This drive was combined with the efforts of another champion, John Olmstead, who embraced an almost fanatical commitment to preserving the entire Jughandle Creek geologic staircase, of which the pygmy was only one small part. John Olmstead, also a university professor, was in the process of mustering every person and penny he could to help secure the privately held property because it was in eminent danger of being desecrated forever by developers and logging companies. He mounted a massive operation that blanketed the San Francisco Bay area with a campaign asking people to donate their Christmas gift money to his organization, "The Institute of Man in Nature", so he could make a down payment on the land. He and others lobbied the State of California to take possession of the entire project and make it a state park.
Both men succeeded and, in doing so, they put the pygmy forest into the national, state and local news. By the early 1970s the pygmy forest had been visited hundreds of times by environmentalists, school groups, scientists, reporters, artists and film-makers. Weekly guided hikes up Jughandle Creek's "Ecologic Staircase" have always been well attended.
Just prior to 1969, Dr. Jenny had purchased 10 acres of land, near the Charlotte M. Hoak Pygmy Forest on Comptche-Ukiah Road. He turned these over to the Nature Conservancy to add to the 50 acres they had recently purchased adjacent to it. At about that same time, the University of California bought more property in the area as one of it's first U.C. Natural Reserve System locations ("Jenny Natural Reserve"). That entire area, totaling about 200 acres of mixed woodland, was designated the "Hans Jenny Pygmy Forest Area" in 1992 by the California Department of Parks and Recreation and became part of Van Damme State Park. It included all of the property owned by the University of California, the Nature Conservancy and an adjacent 5 acre parcel that was purchased by California Garden Clubs, Incorporated (CGCI) and named for Charlotte M. Hoak. It took CGCI 18 years of fund raising throughout the state, much of coming from their junior clubs, to buy the land.
---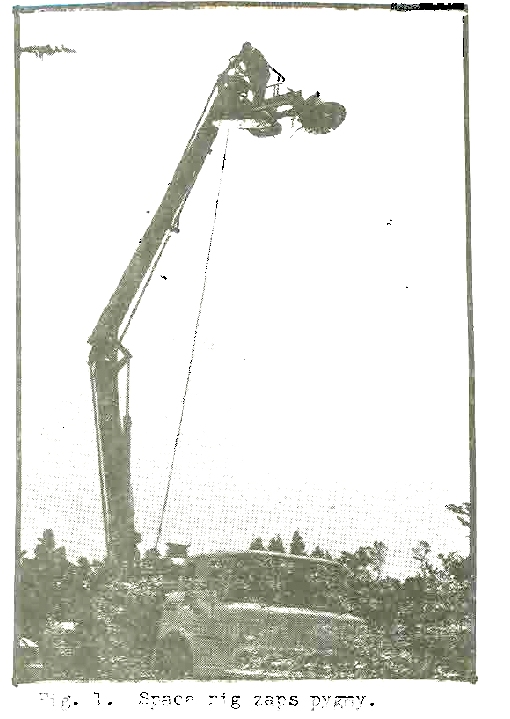 NASA Kept Pygmy Forest in the News
Ever since the late 1960s there have been periodic lawsuits, injunctions, Coastal Commission rulings and county board of supervisor's decisions that have affected parts of the pygmy forest and kept it in the news. A number of citizen groups have fought to protect the pygmy forest from destruction by garbage dumps, wireless communication towers, logging operations and housing developments. It is estimated that before 1960 there were 4000 acres of pygmy forest and today, less than 2500 remain. By mistake or by design, "progress" has threatened the remaining pygmy forest with devastation by an almost endless list of incursions.
In 1985 NASA sent a team of scientists, technicians and special ground mapping equipment to the pygmy forest to conduct experiments in radiographic imaging of forest-lands.
---
Jackson Demonstration State Forest Newsletter, December, 1985
"The pygmy forest proved ideal for NASA's purpose of testing it's radar system on an actual "miniature" forest. For two days in August, NASA technicians busily beamed radar down on to the forest while scientists clipped and weighed vegetation samples for moisture content determination, and monitored radar microwave scattering using an instrument called a scatterometer and a specially designed, battery operated computer. These measurements helped the scientists decipher just what the radar is sensing."
---
Of the dozen or so "elfin woodlands", "white plains", "pine barrens" and other so called "pygmy forests" recognized around the world, ours in Mendocino County, California, is the most studied, well known, fought for and visited anywhere. It will never have the grandeur of the Grand Canyon, the scale of the Taiga in Siberia or the glory of the Apollo 11 moon landing. It has been described as "unphotogenic" by artists, and a "waste of time" by visitors who have walked through it while texting reviews to tripadvisor.com, but more have been captivated by it's magic and mystery, and it has a chance to continue to exist in an unpretentious ecologic "steady state" for another million years.
---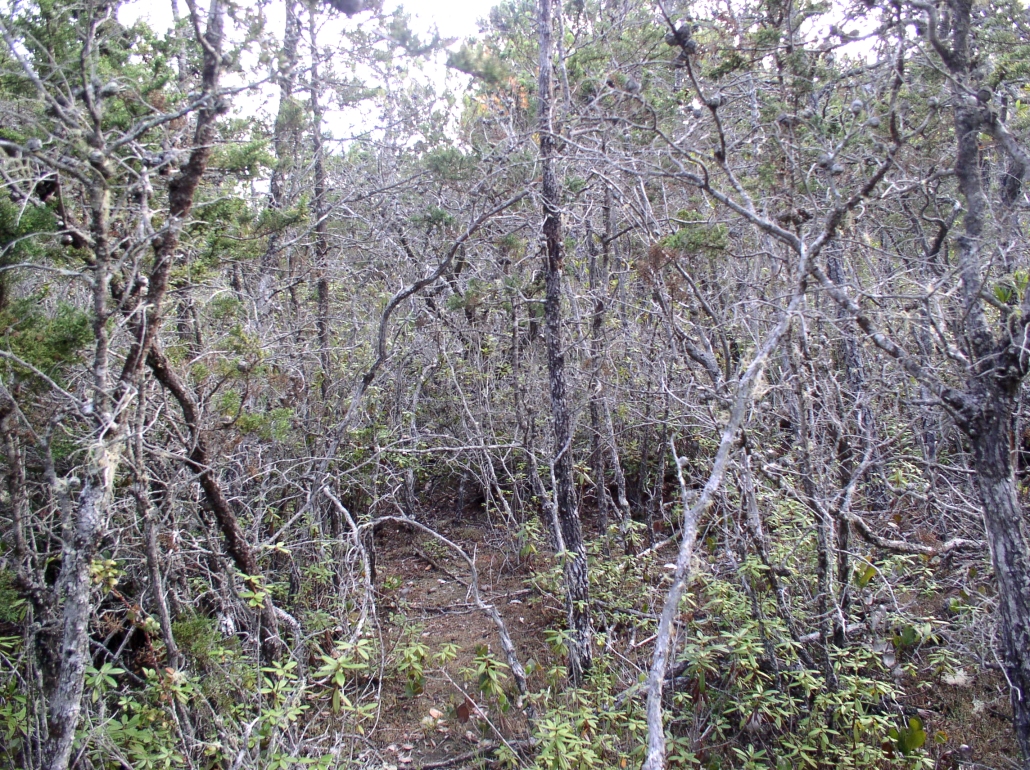 This Is The Real Pygmy Forest!
I 'll end with a quote from Volume 81, The Christian Advocate, 1906:

In the Dangerous Pygmy Forest
or, Glimpses in the Eternal Twilight
By William Edgar Gell, F. R. G. S.
"Dark and dreadful, lone and lethal" are ords which may be suitably employed when describing that woodland which is remote and wild..."There are only small fragments of the pygmy forest where the sunlight penetrates but also large damp, dark areas exist where the solar rays never touch the soil. And still vaster tracts where the light of the moon is unable to banish the subtle elements of night in the land of Twilight.

Next time: All Manner of Pygmy Trivia?
---
A "Rediscovering Charlotte M. Hoak Pygmy Forest" event is set to take place on September 10, 2016.
Related Content:

Copyright &copy Joshua Lowell 2015