Lottie's Pygmy Forest Blog: Where Is the Pygmy Forest?
"The Pygmy Forest Is Wherever You Find It"... This may sound sarcastic but, no list of pygmy forest locations exists. In 1968 there were estimated to be 4000 acres of pygmy forest in Mendocino County. Due to various types of development and destruction, only 2500 acres remain. About 300 of these are actively offered to the visiting public in State Parks and Reserves. They are split between 3 locations and are meant to represent all pygmy forest. Two of these three sites are the Jughandle Reserve pygmy forest boardwalk and, an obscure feature area of one of the Russian Gulch State Park trails. Both of these locations are several hiking miles away from the nearest parking. Only the Van Damme State Park pygmy forest boardwalk is marked by a sign on the highway, and can be visited without hiking. Access into the remaining hundreds of acres of protected pygmy forest can be frustratingly difficult to find even for a 40 year area resident.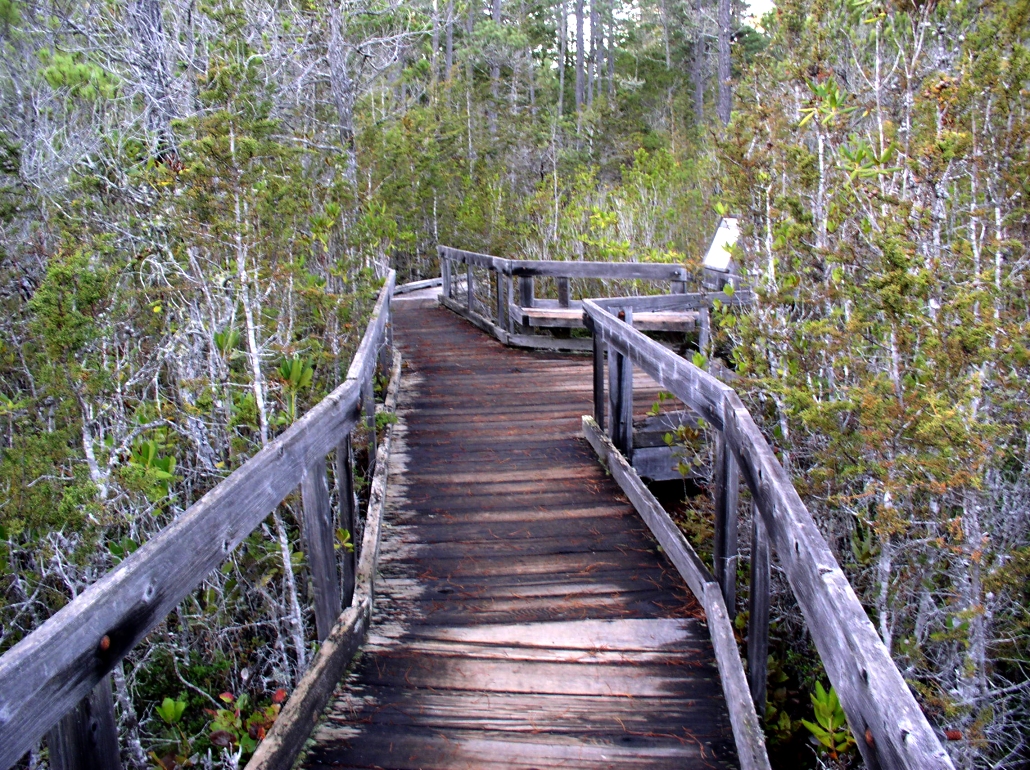 The Pygmy Forest Boardwalk at Van Damme State Park in Little River
In a previous article I said, "These pygmy forests occur in scattered pockets next to normal coastal pine and redwood forests." By this I mean that there are small groves or plots of pygmy forest along any of the coastal roads that traverse within a specific region or zone. This area begins mile from the ocean & ends four miles inland. It stretches from Navarro Ridge in the south, to Ten Mile River in the north. Finding pygmy forest within this zone is a hit or miss affair that involves driving around and simply looking out the window for wooded thickets of small cypress and pine trees mixed with rhododendron, huckleberry and manzanita shrubs. It is safe to say that a drive east on Albion Ridge Rd., Little River-Airport Rd., Comptche-Ukiah Rd. or Little Lake Rd. will take you through some pygmy forest.
The locations of some of the Pygmy Forested Areas I Have Visited This Year.
I have been exploring this region for several months now by parking on the roadside wherever I see pygmy forest and exploring it. Undoubtedly some of the property I have tramped across is private land but I stick to the rural ethos that one may tread upon another's land if it hasn't been posted with a "No Trespassing" sign or enclosed within a fence. It is appropriate, if questioned by a property owner or neighbor, to claim, "I didn't know that anybody owned this land". Another useful phrase in such circumstances is, "Please show me the way back to the road". Needless to say, I don't explore on inhabited property without the residents permission.
The next two photographs depict the pygmy forest as you would see it while driving within the region. On my expeditions I often have to drive 1/2 mile past a likely spot until I come to a pull-out big enough to park in and then I walk back to the pygmy forest that I picked out to explore. Some of the pygmy forest areas are 50 or more acres in size while many occupy only 4 or 5 acre patches within the larger surrounding forests.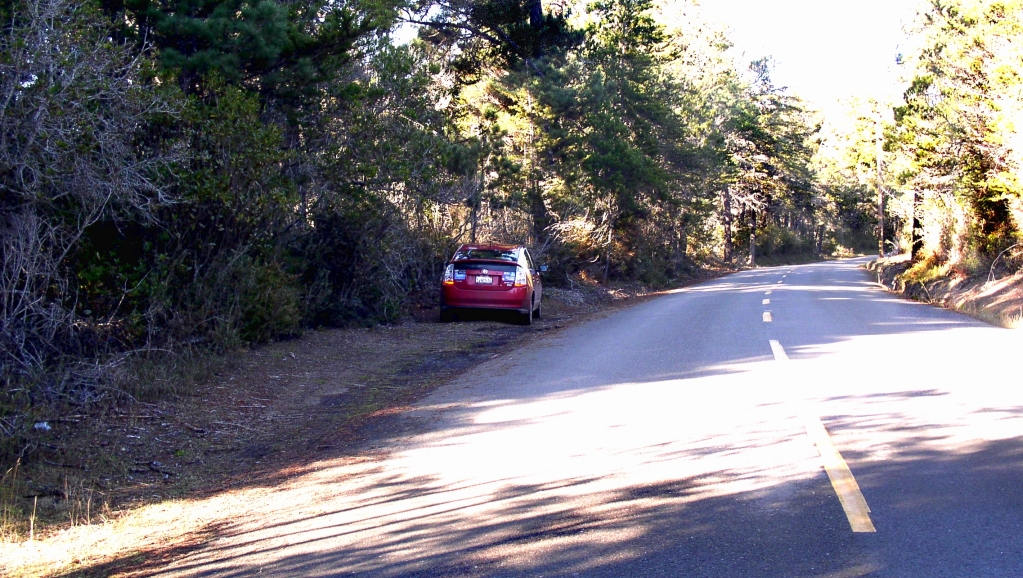 My Car On the West Side of Summers Lane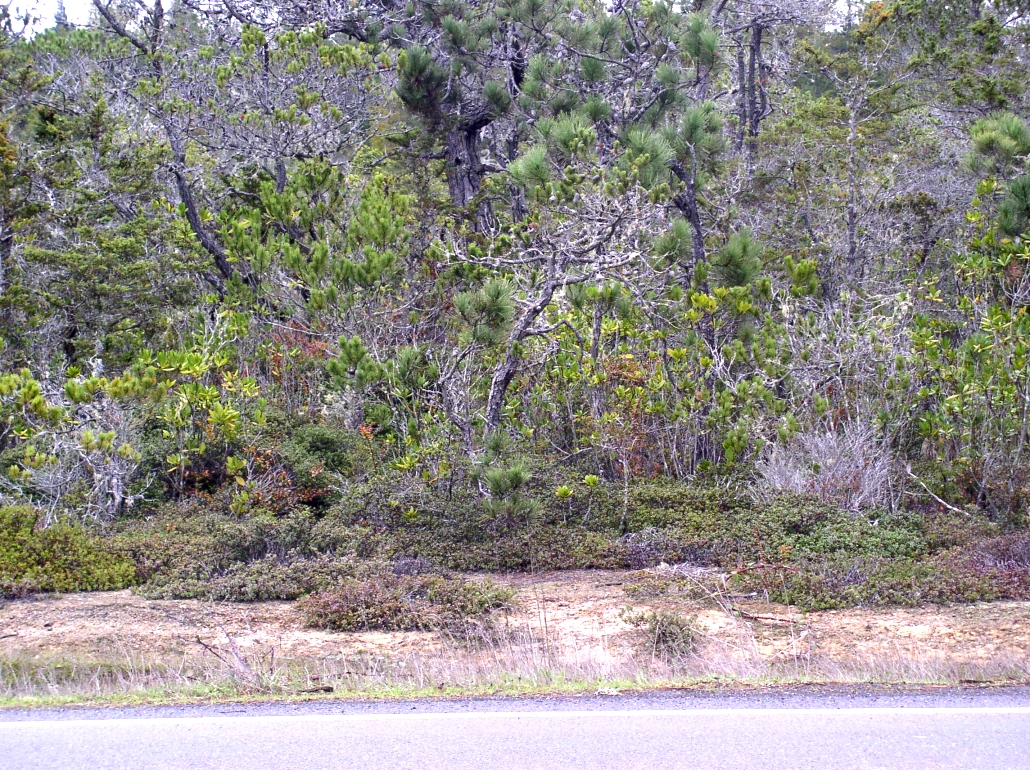 Side Window View of The Pygmy Forest Along Comptche-Ukiah Road
Most of the people living in this region of Mendocino are tolerant of benign trespasses that are committed by visitors from out of the area. They are not prone to anger or hostility and, since the first tribe of hippies landed on this shore 50 years ago, these decedents of loggers, mill-hands and fishermen have developed a sort of blind eye to the activities of strangers that they don't understand. The pygmy forest, many locals have heard, is an interesting place, and worthy of study by college professors and notoriety to tourists.
---
Here are links to the state park websites that encompass the most visited and popular pygmy forests in Mendocino County and a couple of local tips to help you get close to and personal with the pygmy forest: Russian Gulch State Park

This is a link to Russian Gulch State Park's webpage. Nothing is mentioned about the park's pygmy forest area on their own website or in their brochure. The pygmy forest in Russian Gulch is about a one mile hike from the Park headquarters off of Highway 1, just north of the town of Mendocino, or from the Horse Camp, 3.3 miles from the coast on the Caspar-Little Lake Road (County Road 409). The Pygmy Forest here is to be found at the halfway point up or down the "North Boundary Trail". Russian Gulch Trail Map
Van Damme State Park
Van Damme State Park has the most frequented pygmy forest in the County. It features an elevated boardwalk, constructed as a way to accommodate many visitors while protecting the fragile ecology from people. I find the boardwalk experience similar to viewing animals in moat contained habitats in the zoo. From above the pygmy forest is especially interesting if you read the informational signs about the land formation, the soil and the plants. Otherwise, it can be difficult to know what to make of the lake of plant-life crowding in around you.
One of the Van Damme trails connects the campground and park entrance to this boardwalk however the Pygmy Forest Boardwalk has it's own entrance 2.7 miles east of Hwy. 1 on Little River-Airport Road, watch for the sign. The Little River-Airport Road location is the only wheel chair accessible pygmy forest. Trail Map of Van Damme State Park
Jughandle State Natural Reserve
Jughandle State Natural Reserve is located on Hwy 1, one-half mile north of Caspar on the west side of the highway. From the parking lot, the pygmy forest is at the end of a 2.5 mile walk up the Ecologic Staircase trail. This is an excellent first time pygmy forest experience for several reasons. Access to the park is free. If you arrive early, there are usually some green trail guides available west of the parking lot which describe both the unique geologic history that underlays the pygmy forest as well as the soil science and descriptions of most of the plants you will see along the way. Your journey here will take you from the first step of the 500,000 year old staircase, through the pine, cypress and redwood forest and finally, to the pygmy forest, at the fifth step or terrace. The close proximity of giant redwoods and the stunted pygmy forest is a startling contrast for many.
A shorter alternate trail leads to the pygmy forest off of Gibney Lane, one mile from Hwy. 1.This trail is marked with a small yellow sign that reads, "STATE PARK BOUNDARY". Parking is on a dirt turnout across from the Gibney Lane - Old Caspar Railroad Rd. intersection. The walk to the pygmy forest is about 1.5 miles. If you enter the trail at Gibney lane, walking south for 1/2 a mile, you will meet the east/west Ecological Staircase Trail. Take a moment when you reach this "main" trail to find some landmarks so you don't miss the trail intersection on your return hike or you will miss it and find yourself walking a long way back to Hwy. 1.
Jug Handle Trail Map
Charlotte M. Hoak Pygmy Forest
I have saved my favorite for last. The Charlotte M. Hoak Pygmy Forest is also within Van Damme State Park but is located 2.6 miles from Hwy. 1 on the south side of Comptche-Ukiah Road. It is rarely visited and does not appear on any map. I refer you to a website I created about this location which includes explicit directions.
Next time: Who Knows About the Pygmy Forest?
---
A "Rediscovering Charlotte M. Hoak Pygmy Forest" event is set to take place on September 10, 2016.
Related Content:

Copyright &copy Joshua Lowell 2015